This is the official wiki for the Five Nights at Freddy's Fangame "Sinister Turmoil"! Here you will find information on everything from the story, to different game modes, to all characters!
And I (Scientedfic) will work my hardest to update this page as frequently as possible.
Sinister Turmoil Official Wikia
Welcome to the Sinister Turmoil official Wikia!
Here you can get all the information you want to know about Sinister Turmoil! This Wikia is licensed as the official Wikia of the game!
Do you have any questions? Ask any admin!
Please wait. We are working on the content.
What Is Sinister Turmoil?
Sinister Turmoil is a Fangame of the popular series Five Nights at Freddy's by Scott Cawthon (also known as animdude) this game features everything you want from a free roam fangame from FNAF. Incluiding: Multiplayer, your favorite characters from others fangames (Like Popgoes and Ignited Freddy). The game is still a Work In Progress, and the release date is currently unknown. But there are some demos and tests published in the game's page.
http://gamejolt.com/games/sinister-turmoil/254102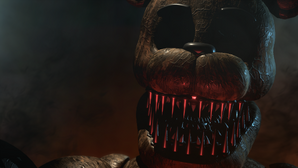 Community content is available under
CC-BY-SA
unless otherwise noted.